Bio
Born in Detroit, Sandy moved to Israel in the mid-1980s, and quickly became one of the most popular performers on the Israeli "anglo" entertainment circuit, catering to Israel's large community of English-speaking immigrants.  At the same time, she stays connected to the music scene in the Old Country through her recordings, by touring and by participating in US-based folk music events.
In 2007, she was chosen to participate in the prestigious "Emerging Artist" showcase at the Falcon Ridge Folk Festival.
Sandy attended Yale University, where she excelled in extra-curricular singing and musical theatre while completing a degree in Judaic Studies.   Sandy originally set her sights on the rabbinate and moonlighted as Israel's first female cantor – but eventually switched her focus and entered drama school in Tel Aviv in 1986, hoping to become an actress on the Hebrew stage.  Go figure.
Anyway, after a year in drama school, Sandy did perform in Hebrew, as well as in Italian and French.  Her first paying job was in the New Israeli Opera, where she appeared in such memorable roles as "sixteenth gypsy from the right" and "19th century courtesan with the worst "wig" under the direction of Zubin Mehta.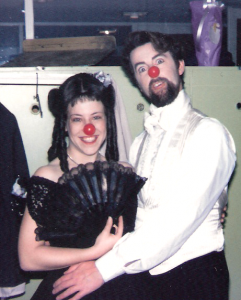 Later she performed — in Hebrew — in the Israeli casts of "Les Miserables" and "Evita" and appeared on radio and television.
Even as she "made it" in the Israeli theater world, Sandy felt a yearning for her home language.  She began to frequent Israel's network of folk clubs, performing songs that emphasized her dramatic training to the accompaniment of guitar and a century-old English concertina.
Today, Sandy continues to perform in local community musical theater productions, and has has recorded four studio albums.  Her 2012 CD,  Voices From the Other Side, was named one of the best folk music releases of that year by NPR-affiliate radio program "The Back Porch".
Sandy's most recent recording, an EP entitled "More Than Meets the Eye", was released in 2020.