Bio
From the Midwest to the Middle East – that's the route traveled by American-born singer-songwriter Sandy Cash. Now living the ex-pat life in her adopted country of Israel, Sandy is a musical storyteller whose thoughtful – and theatrical – performance style is rooted in the songs on which she grew up back in her native Detroit. At the same time, Sandy's original songs offer a penetrating look into the world in which she has chosen to make her home. Drawing deeply from the well of history while holding up a mirror to issues of the present day, Sandy's writing also embraces universal themes: the sustaining love of family, a commitment to community, and – oh, so important in this part of the world! – a healthy sense of humor.
A popular performer in Israel, Sandy is also the veteran of a number of tours in North America. A 2007 finalist in the Falcon Ridge Folk Festival's Emerging Artist Showcase, Sandy's original songs and videos have found audiences around the world. She is particularly proud that the folk music supergroup of Priscilla Herdman, Anne Hills, and Cindy Mangsten chose her original song, "Survival of the Fittest", for their concert repertoire.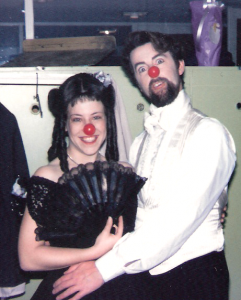 An actress and classically-trained singer, Sandy was a drama major at National Music Camp in Interlochen, Michigan, and an active member of the theater community at Yale University, where she majored in Judaic Studies. Her love of Israel led her to a year of drama school in Tel Aviv (in Hebrew!), then to professional stints in the Israeli Opera Chorus and the original Israeli casts of Les Miserables and Evita. Now blessed with a day job she loves – creative copywriting for academia – Sandy continues to give concerts and perform in amateur productions. Her favorite roles include Anna in the King and I, Diana in Next to Normal, Prospera in The Tempest, and The Stage Manager in Our Town.
Sandy's 2012 CD, "Voices From the Other Side", was named one of the best folk music releases of that year by NPR-affiliate radio program "The Back Porch". The title track of her 2020 recording, "More Than Meets the Eye" – which tells the inspiring story of astrophysicist Vera Rubin — was featured in The Times of Israel, as well as in one of India's most popular websites devoted to science education, Secrets of the Universe.