Voices From The Other Side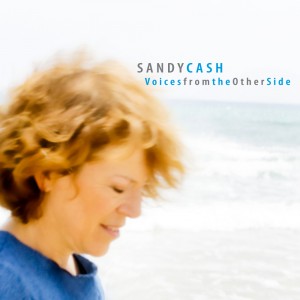 Voices From the Other Side is my latest studio recording, produced by David Epstein. This disc was a labor of love, as I slowly pieced together the best of the songs I've written and performed over the past few years.
Living in Israel — a Western-oriented society in the heart of the Middle East — has affected me as a songwriter, urging me toward issues-based lyrics that draw deeply from the well of history, while not hesitating to hold up a mirror to the politics of the present day. At the same time, my music owes much to the North American songwriters (my Voices from the Other Side) who have inspired me over the years. In this collection you'll also hear about what keeps me going in this complicated life I've chosen for myself: the sustaining love of family, commitment to community, and – oh, so important! – a sense of humor.
Words and music © Sandy Cash, Bud-Man Music, BMI, except where noted

Click on a song title to read the lyrics.
* Based on "Mom's Guitar," © Stuart Kabak, BMI, additional lyrics by Sandy Cash
** Words and music © Stuart Kabak, BMI
*** Words and music © DeirdreFlint, ASCAP
Gilad's Guitar
(Adapted from "Mom's Guitar" by Stuart Kabak with additional words by Sandy)
First finger, second fret
Listen to the sound you get
He loved me from the day we met
I'm Gilad's guitar
He promised me when we were young
I'd be his gift to a cherished one
And now you're here his will be done
I'm Gilad's guitar
Reminder of the price he paid
I'm hand crafted, tailor made
I sound better the more I'm played
First finger, second string
Leave the buzz out make me ring
I know you have a song to sing
I'm Gilad's guitar
The songs he loved will never fade
They live in all the dues we paid
I sound better the more I'm played
And I hope one day before we're gone
You'll have a child and pass me on
You can introduce me saying
This was Gilad's guitar
First finger, second fret
Listen to the sound you get
I loved him from the day we met
I'm Gilad's guitar (in your hands now)
I'm Gilad's guitar (make us proud)
I'm Gilad's guitar
Top
Banks of Freedom
Of all the slaves he owned, Josiah Henson was the prize
There was no man who could plant or hoe the faster
Josiah brought the crop yields up and he never raised his eyes
So was named the overseer by his master
In 1817 the master called Josiah in
Said here's a letter signed by me to make you lucky
I owe my neighbors silver but they want their pay in skin
Hide our best slaves with my brother in Kentucky
If you get 'em there this letter here from me says you'll go free
Josiah stocked his master's wagon up with oats and slaves and bacon
And crossed Virginiamountainous and wide
He'd switched the wagon for a trawler on Ohio's west-bound water
When he heard voices from the other side
When he heard the voices from the other side
Chorus: The journey is long and the river is deep
It flows on the tears of grieving
But with hope in your heart and a promise to keep
You'll rise on the banks of freedom
The slave state of Kentucky on the river's southern edge
The free state of Ohio to the north
Josiah's oar bent double on the hope that he could dredge
For the liberty his shackled crew was worth
Just then the sound of footfalls pounding on the northern shore
From the deck the crowd of slaves all turned to see
A dark skinned man shouting things they'd never heard before
About the abolitionist's decree
Turn your vessel round and point it here to me – and you'll be free
Chorus
Get down Josiah hollered as he swung his oar up high
And held it there above his charges trembling
The first man makes a move will be the first man who will die
Cause I ain't a one you'll want to be offending
He drove his captives on until they docked at Blackford Creek
Nearby the great estate where he'd been leading
Then bounded up the stairs, his master's brother for to seek
With a letter he was incapable of reading
But loyalty's debt would ne'er be repaid
Black ink on white master's paper
The note's hidden terms had Josiah betrayed
It said he would not go free – never
In his new master's fields Josiah kept his eyes cast down
But stood up tall to scan the dark horizon
And then one moonless night he caught a train they call the Underground
And rode it 'till the border was behind him
And standing on free land, he promised himself
In the name of the slaves he'd delivered
He'd follow that train route again and again
And lead more free men to the river
Top
Elsa Einstein Explains
A wondering soul who hitched a ride beside a beam of light
In thoughts that loosed the laws of space and time
I rode along beside him after I became his wife
For both a second wedding
Me alone his marriage ending
As Albert's life was changing I knew that so was mine
Laughing eyes that I had loved since childhood inBerlin
Our parents sat and talked as we would play
As a man he overturned the world that I was in
A world he could then not repair
From Germany to MC2
Illumination prisoner to the darkness of the day
On the backs of envelopes he'd sketch the universe
Until his weary head would start to nod
I made my contribution to this greatest show on Earth
Practical in talents
I would keep the checkbook balanced
As I watched him chase the coattails of his sage and silent Gd.
All those admirers would stand in line
It took a genius to schedule that man's time
So don't you ask me to explain his relativity
Though I heard him tell it hundreds of times through
What mattered was the life we shared was more than theory
A home made rich with simple things
Visits from movie stars and kings
While I kept the famous mind well fed and helped him find his shoes
Top
Freeze Frame Truth
A moment in timeAn angle of sight
Background blurred out
Picture cropped tight
A directing hand
And an innocent mind
Make a freeze frame truth
Of a dangerous kind
She's a two-bit extra in this wartime show
As the sun beats on her windshield in a line so slow
Soldier's just a kid but his face is hard
As he pops her trunk, checks her ID card
He's just 19 and he'd rather be
Maybe traveling, or starting university
His ceramic vest could make a grown man melt
In six hour shifts spent searching for the next bomb belt
CHORUS
He was eight years old when the roadblock to peace
Was the bombs going off more than once a week
"Now" may be now, "then" may be then
But his job is to make sure it doesn't happen again
That driver in line, she's a victim too
Of the fear of what will happen if something slips through
Facts slip through the cracks and they make no sound
While the camera shoots and we all fall down
A simple temptation, a summary of sin
But tell me whose stories will you let in?
CHORUS
Top
Free Food Bar
The different tastes my children had
Were plain as plain could be
Especially at mealtimes they agreed to disagree
Child A was vegetarian
Veggies drove child B to tears
And C survived on cornflakes for at least eleven years
Child D – who liked things fancy – had a preference as well
He dreamed of gourmet restaurants with the poshest clientele
But ever since they moved out
Seem's the fight's come to an end
Cuz whenever they feel strapped for cash on this you can depend
What do you do
When the rent is coming due
And you spent a bit too much down at the bar
That little dress in black
Looked too good there on the rack
Hey everybody needs some R & R
It's so good to know
You've got a place to go
Where the back door is always left ajar
It's Mom's whistle-stop, delicious, short order, nutritious
Free Food Bar.
Yes, young folks today
Must learn to pay their way
But some may find old habits tough to break
The meals they can afford
Can leave 'em mighty bored
When the folks' freezer is stocked with T-bone steak
It's so good to know
You've got a place to go
Where the back door is always left ajar
It's Mom's whistle-stop, delicious, short order, nutritious
Lip-smackin', flap jackin'
Free Food Bar.
You'd think some angry words would have been spilt
To give the kids a proper sense of guilt
But that loyalty parental
Has a power fundamental
The need to feed out kids got civilization built
When the numbers don't add up
There's a place to dine and sup
Where the owners keep their cool about the tab
To satisfy their wishes
Just declare you'll do the dishes
And take the garbage out for Mom and Dad
It's so good to know
You've got a place to go
Where the back door is always left ajar
It's Mom's whistle-stop, delicious,
short order, nutritious
Lip-smackin, flap jackin,
Rest a while, home style
No beatin' good eatin'
On your mark, a la carte
What's for dinner, Mom's a winner
Free Food Bar.
Top
Like a Song
Like the sun, like a shadow
Like the frame that holds a window
A way to hear, a way to see
They've always been a part of me
They draw me close, and they take me far
My soul alive with all they are
What a surprise to recognize the way
You hold me like a song
That whispers in my ear
You turn my head around
To listen when I hear
You help me place the tune
That I knew all along
Harmony's what happens
When you hold me like a song
A place to hide, a place to dream
That's what the music used to mean
To smooth it out in measured time
To disappear in side the rhyme
You listened to the words I'd sing
Your silence gave me everything
What a surprise to feel it every day
CHORUS
I used to think I'd heard it all
You sure did prove me wrong
Just keeping time with your constant heart
I learned to sing along
CHORUS
Top
Numbers – by Stuart Kabak
He was running some deliveries Down in Borough Park
The traffic was a blasphemy It was late and getting dark
And he had to find a telephone Call up information
There was no way he'd be on time To his final destination
A siren pierced 10th Avenue as a spring gale took his list
So he casually wrote the number on his arm above his wrist
And thinking nothing of it With appointed rounds complete
He stopped into a diner to have a bite to eat
Well the matron on the register reviewed him with alarm
Her eyes went wide with wonder she kept staring at his arm
And she called to him in German – Avrum bist du das? Avrum – is that you?
It was only then he noticed her numerical tattoo
There are numbers on the telephone numbers on a bet
Then there are the numbers you never can forget
He said – my name is Stuart,  there must be some mistake
I was born an Anglo Saxon  she said  this time Gd gave you a break
Of course you don't remember it was 1942
You were then my only son And like me you were a Jew
They brought us into Dachau in the middle of the night
Not a word was spoken as we marched in muted fright
They threw you in a boxcar with some other boys and men
And despite all prayers and promises you were never seen again
But the demons never figure in their frenzy for control
They can sometimes take your body but they can never reach your soul
And the numbers on your arm mein kinde, as far as I can tell
Are the same you wore when they took you now you're back and looking well
There are numbers on the calendar Numbers to regret
Then there are the numbers You never can forget
Well he didn't want to argue for her this was so real
He touched her hand and walked away never got his meal
Driving home he mused at last one could explain
Why he feels a rage inside him when he sees a child in pain
Why he questions all authority why he shuns the beaten path
Why he fears to lose the ones he loves, why he always hated math
Why sometimes he is selfish while longing to be fair
Why the only Hebrew words he knows are from the mourners prayer
There are numbers on the calendar numbers on a lock
Numbers on the telephone numbers on a clock
Numbers on a license plate numbers on a bet
Then there are the numbers you never can forget
You never can forget
Top
Song of Zion
If I said I love her
Would you click your tongue for shame
Would your fingers drum the headlines
To hint I share the blame
If I said I love her
Would you crown me with her crimes
Tribal colonizer thinks the Bible's wiser
Than the staff of the New York Times
Righteous beauty all the rage
A bold new truth to try on
Model for the mirror as you
Sing a song of Zion
And if I said I love her
Would you glance around in fear
Would you guide me toward a corner
To make sure your friends don't hear
And if I said I love her
Would you shake your head and stare
Would you search my eyes until you find
The hate that you're sure is there
CHORUS
But if I said I lost her
I bet you'd come around
To admire the wheels of justice turning
Over new-scorched ground
And maybe I'd get used to
The acceptance that you'd give
But oh my friend, my love and I
We would have rather lived.
Top
Learning As We Go
Sitting down for dinner on a Sunday night  Chairs scraping on the floor
Annie and Jimmy start to fill their plate  While Dave reaches out for more
The baby's crawling round underneath our feet – let her stay there for a while
Then Bob bursts in – running straight from the gym  And you catch my eye and smile
Sometimes I don't feel old enough  To be showing these kids the way
The way they've been keeping me on my toes   I just might take up ballet
The house is a-humming with the going and the coming – so fast my head's a-spin
Still I thank the Lord that the life I've got  Is the one that you are in
CHORUS: What a road it's been  Along the uphills and the downs
Through the winding streets   Not a signpost to be found
Still we travel on   Through this life we thought we knew
Cuz we're learning as we go   Both me and you
Sometimes I think back to the early days  When we started on down this road
We had so little to weigh us down  Still we struggled 'neath the load
All the wrong turns taken and the dreams forsaken left us wiser for the trials
As we kept our faith the journey   And in each other through the miles
CHORUS
All those good directions never did a bit of good  Cuz we got lost no matter how we'd try
I'm not the quickest study but I've finally understood
The best path can take you by surprise… you improvise…
So as the years go spinning by us  And as we watch our hair turn gray
Let this happy home be a beacon   For travelers along the way
Cuz what we've learned as the seasons turned is a simple thing and true
That the joy that's in your journey  Is in those who walk with you
CHORUS
Top
The Journey
Brown earth loose beneath my feet past woodland green and silver
Chill mist shining off the trees is all the light I need here
The journey of a thousand nights I want no one to guide me
My cloak, my pack, my leather boots, my walking staff beside me
A songbird cries out from the trees then wings into the distance
I turn my head to watch her flight until its disappearance
I set my gaze back on the trail my footsteps sure and heavy
My sturdy staff points down the road where I have walked already
The dark mist pearls upon my cloak my pack weighs down my shoulders
The fingers wrapped around my staff grow stiff as they grow colder
I think upon that forest bird, I think upon her singing
I think on her uncharted flight, the point of song's beginning
And if you were to sing to me so sweetly from the shadows
And if you bid me raise my eyes to where another road goes
I wonder if I'd risk my staff my cloak my boots of leather
And everything I know is mine – for what we'd find together
Top

The Bridesmaid's Dress Song
Words and Music by Deirdre Flint
My cousin Mary is a real good friend so she's a bridesmaid for the tenth time
They say that love is blind and a bride to be can prove it
cause what they pick for bridesmaids is a heinous fashion crime.
She pays 300 dollars for a dress the bride is claiming,
If you hem it, you can wear it as a cocktail dress.
Well, sure. If you hem it, redesign the sleeves, tear off the bows and rhinestones, tuck in the sash and dye it black, well then, 500 dollars later you will end up with a gown that is quite obviously a bridesmaid dress altered to be worn as a cocktail dress.
Well, she called me when the dress came in and said, I can't believe it, but this one wins the one for the most piteous.
I said, You've got a wide brimmed melon hat, nothingcould be worse than that.But it was. It was hideous.
It was yards of silken aqua foamy green with lace and ribbons
It was Scarlett crawling back up from the dead
And as she shoved her feet into a set of matching four inch heels
For lack of any better words I said:
Someday, jumbo butt-bows will be all the rage, that's what my hunch is.
And someday, jade silk long glovesWill be the power dress for corporate lunches.
They brought the bellbottoms back , we said it couldn't be done
It's just a question of when.
Don't trash that satin, I'm telling you girl,You'll use that dress again.
The reception was a dinner cruise that sailed into the bay,
Despite the lace and ribbons Mary looked divine.
But another psycho bridesmaid who was jealous of her beauty
Lured her up onto the deck and pushed poor Mary into the brine.
Well, she floated on for days because the bustle made her buoyant.
And the sharks could not bite through the crinoline skirt.
And her parasol turned over caught her ten fresh quarts of water
Till she landed on the last uncharted island, whether beaten but unhurt.
She turned the rhinestones sunward, the reflection made a fire
And the natives were impressed with what they saw.
For they dined on wild bobcat Mary caught with bow and arrow
She'd refashioned from the wire of her under wire bra and she said,
Hey this jumbo butt-bow will make a nifty rescue flag
And hey, this extra bustle, I'll sew into a sleeping bag.
I'll pay the natives fake pearls, they'll go and carve me a boatAnd I'll be homeward again.
I'm sure that this skirt will yield three full sails,
HEY!I'm using this dress again.
Well, a Miami plastic surgeon came upon Mary's distress note
She'd sent floating out to sea in pillbox hat
And as Mary waylaid anchor, he fell instantly in love
And he jumped into his private yacht and set to sail where he thought she'd be at.
Well, a squall came from the south, the handsome surgeon's boat took water
He prepared himself to die amidst the wreck
But as his head was going under he heard: grab onto this butt-bow!
And our heroine pulled him from the turgid waters safely up onto her deck.
They married two weeks later and our Mary wrote a book
Made 10 million on her video and tour
And these days when someone calls her at her mansion and says, Mary, Will you be my bridesmaid?
Mary answers: Sure! Just dress me in 100 butt-bows, and all that matching pastel gear.
Sure! I'd love a hoop skirt! I want to buy another oddly shaped brassiere.
It needs more rhinestones I think, a nice tiara might help,
What this dress needs is a train!
So take a page from Mary, she's doing well
Though you might feel foolish, you might look like hell
Don't trash that satin, you never can tell, when you'll use that dress again.
Top