Next to Normal – Aren't We All?
Next to Normal – Aren't We All?
Sep 10
As a musical-theater-loving American who moved to Israel in her mid-20s, my mind is a cultural time-capsule – full of the song-and-dance extravaganzas that made headlines back when I was a student. This nostalgic mindset isn't mine alone – it also characterizes Israel's many English-language theater groups, who regularly choose to mount productions of shows that rose to popularity 30, 40, and even 50 years ago.
This year, J-Town Productions – a studio theater that performs out of the Jerusalem AACI – has decided to get modern, and present one of the most celebrated musicals (so far) of the  twenty-first century: Tom Kitt and Brian Yorkey's "Next To Normal".
I am proud to be part of this, and invite you all to mark your calendars for the opening night on October twenty first. The show runs until November seventh.
Here's a video from one of our recent rehearsals, featuring Evan Kent (in the role of Dan), Tal Schwerd (in the role of Natalie), and myself: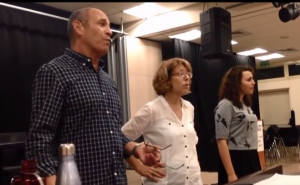 In "Next to Normal" I play Diana Goodman, a woman struggling with mental illness and its treatment.
If this doesn't sound like a toe-tapping subject, you're right… "Next to Normal" is a musical drama with a a rock-opera sensibility, complex characters, and a grab-you-by-the-throat story to tell.  But in the grand tradition of Broadway, "Next to Normal" is also a redemptive story of the power of love.  Because when things get really crazy, being "close enough to normal to get by" can be the biggest victory of all.
"Next to Normal" was awarded the 2010 Pulitzer Prize – one of only eight musicals ever to do so.  It also won three Tony awards, including Best Actress in a Musical for Alice Ripley, who created the role of Diana Goodman – the part I am now taking on.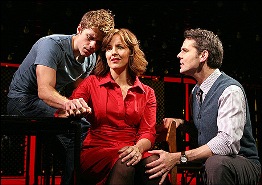 I must admit, being cast as Diana is the fulfillment of a dream – the part has been on my "bucket list" of MAD (Middle Aged Diva) roles for quite some time now.  Moreover, the part pushes me out of my comfort zone, to the very edge of my vocal and dramatic abilities. But I "hold it all together" – as the show's opening song puts it – with the help of a stellar cast and a great directorial team.
"Next to Normal" is a small show – the cast consists of just six actors – but it has had a huge impact on the kinds of stories that can be presented in a musical theater setting. I am thrilled to have the chance to live inside that story for ten whole performances between October 21st and November 7th. Don't miss it. Book tickets by calling the AACI office at 02-566-1181 or visit www.aaci.org.il.
All the details are in the poster below.  Click on the image to enlarge.