The Power of Two
The Power of Two
Feb 22
For years, I've been living a double life.  Mild-mannered, coffeehouse-frequenting folksinger on the one hand, stark-raving Drama Queen of the musical stage on the other.
In isolation, both genres pack a powerful entertainment punch. But what would happen if I put folk music and musical theater together? That's what I've set out to discover in my all-new solo show: The Other Woman.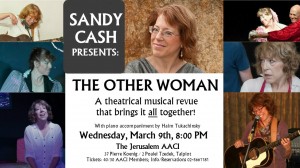 In The Other Woman, you'll have a chance to see me strut my stuff in all its double-dipping glory. A cabaret of dramatic songs both from modern musical theater and the contemporary singer-songwriter scene – plus a few I wrote myself – this show allows me to introduce you to some great characters you've never met before … and revisit some others (like Diana in "Next to Normal" and Anna in "The King and I") that I've been lucky enough to play in the past.
Accompanying me on piano (when I'm not playing guitar) will be Haim Tukachinsky.
The Other Woman premiers on Wednesday, March 9th, at 8:00 PM at the Jerusalem AACI. Tickets are 40 NIS, or just 30 if you're an AACI member.  Reserve tickets by calling the AACI office at 02-566-1181 or sending an email to: israeltheatersource@gmail.com